It's almost 'Big Tent' time!
Our favorite time of year at Black Rock RV Village is fast approaching. The Quartzsite Sports, RV and Vacation Show begins on January 22nd this year (2022). Better known to the locals and returning travelers here as the "Big Tent". If you have never been, you will find RV's for sale, RV Products, Parts, RV lifestyle information and courses, vacation and resort exhibitors, massive open-air flea markets for rock, gem, mineral and fossil collectors and even more!
Unfortunately, we will not be having the complimentary shuttle from our park to the show again this year. With the Covid numbers rising in the states again, we decided to err on the safe side. We do recommend that you carpool, if it is safe to do so, with your friends and family.
The show is free! Well, entry is but not sure you will get out of there without spending a little bit on something amazing! Pets are allowed, however they must be on a leash and cleaned up after.  Depending on the covid protocol the show implements, the crowds can get quite large and it is recommended that you carry your smaller pets or leave them home. Parking is also free on the show grounds.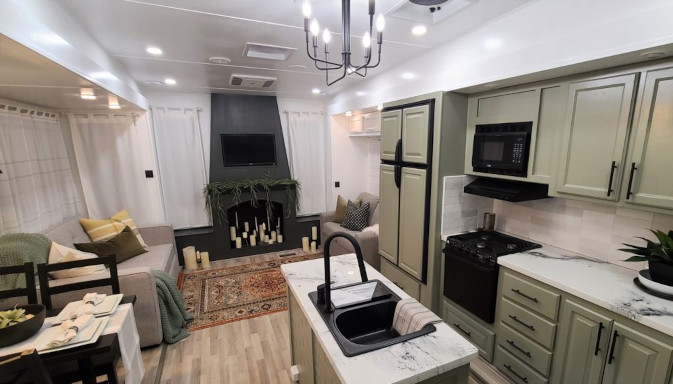 A couple of new additions to the show this year are the addition of Wicked Truth, "The Ultimate Tribute to Classic and New Rock" band from Ontario, Canada and the 'insane' fifth wheel that The Flipping Nomad teamed up with Keystone RV Company to build.
Black Rock RV Village will be here for you to come back to for relaxing or getting out on the trails with your OHV.  Have a great show!