10 Tips for RV'ing With Your Dog
There is nothing like traveling in an RV
RVs allow you to go on vacation with all the comforts of home. A comfy bed, a fully stocked kitchen, and an accessible bathroom are among the many benefits of RV'ing. One benefit is the ability to go camping with the whole family, including the family dog. A recent study by the Recreational Vehicle Industry Association showed that 61% of RV owners believe that furry friends serve as excellent companions when RV camping. Here are 10 Tips for RVing With Your Dog from Black Rock RV, the most pet-friendly RV park!
First, Pack for Your Dog
Just like when you travel, there are certain things that your dog needs when traveling. To make sure that you have an exciting trip, pack all the stuff you think your dog might need. Whatever your pet needs ranges from their food to proof of vaccinations. Here are a few items to keep in mind:
Collar with emergency contact ID tag
Leash
Poop bags
Toys
Medication
Non-Spill food bowl
Plenty of their food. If they are on special diets, it may be a challenge sometimes to find their brand in every town. Make sure you stock up.
Plenty of Fresh Water
Weather gear like sweaters, protective paw booties, raincoat, thunder jacket, etc.
Second, Designate a place for your pup to travel
Choose a place for your dog to ride. If you are using a trailer, ride with the dog in your truck. It isn't safe to ride in the trailer while towing. Ensure your dog is comfortable and relaxed when traveling for long hours to prevent travel anxiety. Often an extra long walk in the morning before heading out helps them relax and hopefully snooze while riding long hours. Also, make sure that you stop for bathroom and water breaks after every few hours. For them and you!
Third, Decide where your pet will sleep
If your dog has a dog bed, bring it along with you to Black Rock RV. This will make sure that it gets a good night's sleep and rests well. A good rest prevents anxiety and nervousness.
Fourth, Stay at a dog-friendly campground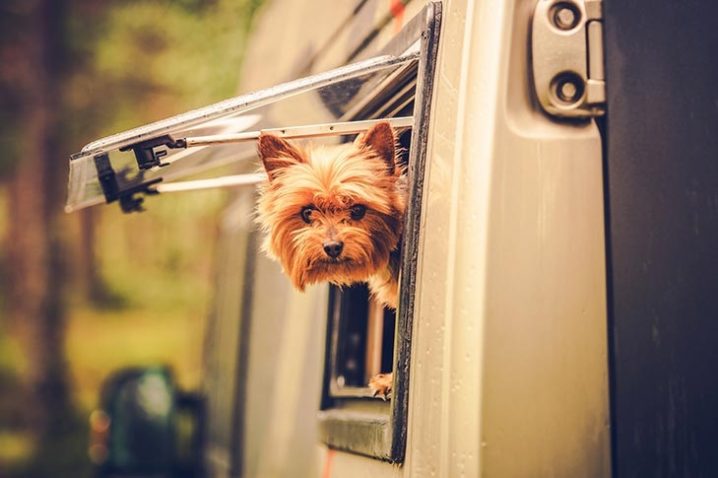 Every RV camping ground has its own pet policy. Some are very strict while some don't allow pets at all. To make things stress free, call the campground before embarking on your adventure. Thankfully our RV Park is dog friendly with a 2 pet maximum. A newly enlarged dog park allows for your pets to stretch their legs in our small and large sections.
Fifth, Decide where to leave your four-legged friend when engaging in activities that are not dog-friendly.
This is the first consideration when deciding on whether to go RV'ing with your dog. You may need to leave your pup alone for a few hours when visiting places such as national parks that do not allow dogs.
A good RV has ample space for your dog. Crate training is an excellent way for your dog to feel comfortable and you to not worry about "messes" in your RV while you are gone for a little while. If you are not comfortable with leaving your dog alone for a few hours, only plan for dog-friendly activities. You could also look for a local dog walker or pet sitter to spend time with your pup while you are away.
Sixth, Plan for an emergency
Although unlikely, it is always good to be prepared for emergencies. Have the number of a local veterinarian at hand in case the worst happens. Ensure that he has his ID tag. Bring copies of your pet's vaccination and medical history with you.
Seventh, Include daily exercise in your schedule
A dog needs exercise. Sitting in a RV for hours without running around is stressful for your pet. Our dog park is extra big for your pup to run and play, meet other traveling pup friends and have a great time. We also have lots of space for long walks. Did you know that if you walk the outside road around our park, it is almost a mile!
Eighth, Be Mindful of the Weather
When planning to leave your dog for a few hours, pay attention to the weather, and anything your dog might need. You must leave your air conditioner on if it's the middle of the summer so that your dog finds a cool place to relax. Many dogs fear thunderstorms. One can lessen this fear by bringing their toys and blankets from home to remind them that they are safe.  Please never leave your dog unattended outdoors.
Ninth, Go Slow

Remember that RVing is a new experience for your dog. He may need time to get accustomed to it. If you're planning for an extended RV trip with your dog, consider practicing with a few short trips to familiarize it with the new environment. Develop a plan that works for you and your pet. Some adapt quickly, while others might need some time.
And Tenth: Enjoy traveling with your buddy!
RVing with your dog may seem daunting, but most dog owners agree it is more fun to bring your dog on vacation than leaving it behind at home. With proper planning, you can surely plan an exciting RV camping trip at Black Rock RV for you and your dog.